True Tittle : Tweet 4.25.13
Author      : RuiShi
Link          : Tweet 4.25.13 on AFF
Translator : dillatiffa
Warning : This post contented slightly rated M!
 ~ Cats and Beanies ~
Teddy sedang mendengarkan salah satu lagu ciptaannya saat gadis itu datang. Dara mengetuk pintu, lalu mendorong pintu hingga terbuka kemudian langsung menutupnya, senyuman terpasang di wajahnya. Teddy membalas senyumnya dan setelah menghentakkan sedikit melodinya, dia mengecilkan volume dan menatap Dara yang berdiri disamping pintu, masih tersenyum.
"Menilai dari senyumanmu itu," Teddy mengamati, "Kau akhirnya sudah mengeluarkan semuanya. Apa yang membuatmu berubah pikiran."
"Aku bersikap bodoh sebelumnya."
"Semua orang pernah mengalami."
Dara berjalan ke meja tengah. Inilah tempatnya akan duduk setelah terlalu lama rekaman. Dara bisa membayangkan Jiyong duduk di kursi itu, kaki terkadang naik ke meja, mendengarkan dengan seksama dengan wajah luar biasa seksi saat sedang serius. Ada kalanya Dara akan mengunjunginya, lalu pria itu akan menoleh dan tersenyum. Saat sudah larut dan mereka tahu hanya tinggal mereka berdua, Jiyong akan mengulurkan tangan dan menarik Dara kedalam pelukannya. Hal itu tidak selalu terjadi setiap hari.
Dan sangat berarti banyak bagi mereka.
Waktu-waktu sesaat ketika mereka bersikap layaknya pasangan kekasih sungguhan… mungkin hal itu jarang terjadi, tapi bagi Dara itu seharga seisi dunia.
"Kupikir aku mencintainya." Ungkap Dara tiba-tiba.
"Kau pikir?" Teddy menatapnya, kedua alis terangkat naik. Dara tertawa dan ekspresi wajah Teddy melembut menatap wanita dihadapannya ini. Dia adalah seorang wanita namun juga seorang gadis dalam waktu bersamaan, dalam satu tubuh. "Kurasa, kali ini, kau sudah siap untuk memegangnya. Apa kau bahagia?"
Dara tertawa gugup dan mengangguk.
"Aku tahu aku bilang aku hanya perlu tahu apa yang harus kuketahui. Aku tidak ingin terlibat dalam hal apapun. Tapi karena sudah mengenal kalian berdua sekian lama, kurasa, kita ini teman kan?" Dara tersenyum dan mengangguk. "Jadi aku memang mungkin tidak bisa membantu… tapi aku peduli." Teddy memutar bola matanya saat mengatakan itu dan Dara hanya tertawa. "Dara… apapun yang membuatmu bahagia, kau harus belajar untuk memperjuangkannya. Tidak ada yang bisa mengambilnya darimu."
"Terima kasih, Teddy oppa." Kata Dara tulus. "Aku selalu berpikir kau lebih menganakemaskan Chaerin dari kami semua."
"Kau benar." Ungkap Teddy membuat Dara merengut, Teddy mengacak rambutnya. "Aku tidak pernah menganakemaskan siapapun, kau tahu itu!"
"Omo, jangan rambut!" protes Dara.
"Siap untuk mengguncang dunia, Sandara Park atau sekarang ini Park Sandara?"
"Dara! Berapa kali aku harus mengatakan itu?" Dara menghentak-hentakkan kakinya.
"Kadang-kadang, aku lupa kalau kau sudah 30 tahun."
"Ngomong-ngomong, aku harus pergi." Katanya sambil mempersiapkan tasnya. "Kami akan pergi malam ini, atau kau sudah tahu tentang itu?" Dara tersenyum dan mengangguk. "Sampai bertemu disana, D!"
Dara tersenyum pada Teddy dan melambaikan tangannya. "Terima kasih, Teddy oppa. Semoga penerbanganmu menyenangkan."
*
Saat dia sendirian, Dara duduk di kursi yang biasa diduduki Jiyong. Jemarinya bergerak menyentuk pegangan lengan, dia mengingat kejadian malam itu…
Bagaimana ciuman mereka sangat berbeda dari yang sebelumnya. Sebelumnya itu merupakan ciuman selamat tinggal, tapi kali ini, seakan itu adalah sebuah sambutan selamat datang. Dara menggelengkan kepalanya. "Aigoo, sejak kapan aku jadi gombal begini?"
"Tapi Tuhan, bahkan sentuhannya…" Dara melanjutkan percakapan batinnya. "Rasanya sangat berbeda… sangat nikmat… Ya Tuhan, hanya memikirkannya saja… Oh Tuhan!" dia memijit batang hidungnya. "Dara tidak akan ada yang bisa menyelamatkanmu kali ini jadi berhenti memanggil-manggil Tuhan!" dia memarahi dirinya sendiri.
Cara Jiyong menyentuhnya sangat lembut tapi entah kenapa, dia merasa kesakitan di berbagai tempat namun menyukainya dalam waktu bersamaan. Cara pria itu membisikkan namanya di telinga Dara membuat gadis itu kehilangan kendali dan semakin menginginkan pria itu lagi dan lagi. Dara ingat bagaimana tangannya menyentuh bahu Jiyong… lengan dan merasakan otonya menegang saat dia mencoba menempatkan dirinya agar tidak menindih tubuh Dara.
Dan ciuman-ciuman itu…
Apapun yang bibir Jiyong sentuh, serasa terbakar… dan Dara tidak bisa menujukkannya namun di beberapa bagian tubuhnya, dia menyukai perasaan yang dia rasakan akan apa yang dilakukan padanya, namun pada saat bersamaan dia merasakan sakit… mengharapkan sesuatu tidak sepenuhnya dia pahami.
Dara tersenyum lalu menggigit bibirnya.
Jika sudah pernah melihat Jiyong menggigit bibirnya pasti semua akan bisa membayangkan gadis itu sedang melakukan hal serupa.
"Kyaaaaaaaaaah!" teriaknya tiba-tiba didalam studio dan wajahnya langsung dia jatuhkan ke meja.
"Dara?" dia membeku mendengar suara dari arah pintu itu kemudian menoleh tanpa merubah posisinya. Dia lalu tersenyum kepada Teddy. "Apa yang terjadi?"
"Inilah diriku…" kata Dara, mencoba terdengar cool. "Menjadi normal.:
Teddy terkikik geli. "Omo, jangan baca pikiranku! Apa dia bisa membaca pikiran? Tidak! Dia tidak bisa membaca pikiran, kan?" percakapan dalam kepalanya berlanjut.
"Well, semoga berhasil dengan hal itu. Wajahmu sudah semerah tomat, bahkan dengan penerangan seperti ini, aku bisa melihatnya." Ujar Teddy blak-blakan. "Berhenti memikirkan Jiyong seperti itu atau ovarium-mu akan meledak."
"Mati aku." Katanya kepada dirinya sendiri lalu memukulkan kepalanya lagi ke meja, mendapat hadiah tertawaan dari Teddy.
Flashback
Tangan Dara bergerak menyentuh lengan sempurna Jiyong dan berpegangan, merasakan ikatan dan dia semakin mendekatkan tubuhnya pada tubuh pria itu. Dara suka menyentuh punggung Jiyong, jemarinya menyukai perasaan saat menyentuh otot-otot Jiyong.. Dalam irama mereka sendiri, kakinya menemukan jalan untuk melingkar pada pinggul pria itu seiring dengan ciuman mereka yang semakin dalam, lidah saling berperang, namun entah mengapa, saling mengalah satu sama lain. Ani, ini bukanlah 'perang'. Ini adalah memberi dan menerima.
Dara melenguh saat bibir Jiyong meninggalkan bibirnya dan pria itu mulai menyerang lehernya. "Perasaan memalukan apa ini??? Apa yang sebenarnya terjadi padaku?" tanyanya kepada diri snediri saat merasakan ciuman-ciuman Jiyong. Tangannya bergerak menyentuh dada Jiyong. Sebuah sentuhan ringan pada putingnya dan Jiyong sudah melenguh – Dara menyukai suara lenguhan prianya.
"Apakah ini benar-benar terjadi?" tanyanya kepada dirinya sendiri sambil terus membiarkan Jiyong melakukan apapun pada sekujur tubuhnya. Kini Jiyong kembali kepada bibirnya, menciumnya. "Apa aku sudah mengatakan bahwa aku menyukai ciuman-ciumannya?"
"Sekarang sudah."
Jiyong tersenyum lalu menyentuhkan hidungnya pada hidung Dara dan kemudian gadis itu membuka mata. Dara menatap Jiyong kemudian menyentuh wajahnya. Jiyong berpindah pada tangan Dara dan menciuminya. Jiyong sedang mencoba menenangkan dirinya, berpegangan pada segaris tipis pengendalian diri sambil membaringkan tubuhnya diatas tubuh Dara. Dirinya hampir kehilangan control saat mendengar Dara membisikkan namanya dan perasaan saat tangan lembut gadis itu menyentuhnya – rasanya sangat menakjubkan… dia kehilangan kata-kata untuk menggambarkan apa yang sedang terjadi.
Tentunya, malam pertama mereka tidak akan seperti ini. Jiyong dia akan pernah memaksa gadisnya untuk melakukan sesuatu yang belum siap dia lakukan… tidak jika dia bisa mencegahnya.
Ada saat yang tepat untuk semuanya. Jiyong meyakinkan dirinya. Walaupun temannya dibawah sana menuntut lebih, dia akan mencoba bersikap lebih dewasa kali ini. Dia tidak mau otaknya dikendalikan oleh sesuatu diantara selangkangannya… sekali lagi, selama dia masih bisa mengendalikan diri.
Jiyong melihat kepala Dara menoleh kesamping. Kerutan muncul di keningnya. Jiyong membenamkan wajah di leher Dara. "Ada apa?"
"Aku merasa tidak nyaman melihat Laura[1] tersenyum seperti itu."
Jiyong tidak bisa menahannya lagi. Dia tertawa. Setelah semua yang mereka lakukan di ranjang itu, Dara hanya bisa berkomentar tentang Laura. Dara menatap Jiyong, berusaha untuk menghilangkan tampang bosan dari wajah Jiyong. "Gwenchana?" tanyanya.
"Harusnya aku yang bertanya padamu. Aku tidak menindihmu, kan?"
"Aniyo." Pandangan Dara tertuju pada lengan Jiyong.
"Bisakah kau bersabar sejenak sementara aku memulihkan kembali pengendalian diriku?" Dara mengangguk.
Jiyong hanya mengenakan boxer-nya sementara pakaian Dara yang tersisa hanyalah pakaian dalamnya yang berwarna hitam berenda pink. Entah kenapa, ditengah semua itu, Jiyong membuat Dara hampir telanjang dalam waktu singkat, namun tangan Dara bahkan tidak berani menyentuh ikat pinggang Jiyong. Pertanyaannya adalah, apa dirinya siap bertemu dengan apa yang ada didalam sana?
"Aku benar-benar…" Dara berbicara tapi berhenti ditengah-tengah.
"Apa?"
"menyukai saat kita berciuman." Katanya dalam bisikan dan Jiyong tersenyum akan kejujuran gadis itu. Jiyong bergerak mendekatkan wajahnya ke telinga Dara. "Apa kau tahu kalau aku suka saat kau menyentuhku?"
Dara tertawa dan Jiyong bergerak semakin mendekat tapi tangan gadis itu menghentikannya. "Ji, jangan berhenti. Aku sedang berusaha untuk mengendalikan diri."
Jiyong tertawa keras dan mencium gadis itu. "Kau akan menjadi penyebab kematianku, Sandara Park."
"Oh, jangan mati dulu. Kudengar hal ini akan semakin membaik dengan banyak latihan."
Jiyong kembali tertawa lalu berguling berbaring dengan gadis ramping itu dalam pelukannya, Dara mendaratkan ciuman di bahu Jiyong, sementara Jiyong mendaratkan ciuman di kening Dara. "Menginaplah disini malam ini?" pinta Jiyong, Dara menatapnya. "Aku janji, aku akan menjaga sikap."
"Dan bagaimana denganku?"
Jiyong tertawa. "Aku tidak akan mempermasalahkannya."
"Ya Tuhan, Sandara Park, jangan sampai merona! Apapun yang kau lakukan, jangan sampai wajahmu merona!" dalam hati dia berkata kepada dirinya sendiri, membuat Jiyong menertawakan berbagai macam ekspresi yang muncul di wajah gadis itu. Dara mendorong dada Jiyong.
Dara memperhatikan Jiyong yang telah tertidur. Wajahnya terlihat tenang. Dalam tidur, dia hanyalah seorang anak laki-lak. Bukan G-Dragon, yang menaklukkan panggung, bukan Kwon Jiyong, pria yang bisa membuat banyak gadis tergila-gila. Dia hanyalah Jiyong… orang yang ingin membuat perbedaan di dunia ini dengan keunikannya. 'Ji'-nya…
Dara kembali ke dorm saat yang lain baru saja bangun. Dia menyiapkan sarapan untuk mereka lalu mengirimkan pesan agar mereka keluar kamar dan sarapan.
Bom yang sudah selesai keramas dan langsung keluar memikirkan makanan. Chaerin dan Minzy sudah ada disana, menatap Dara yang berada di dapur. Gadis itu bergumam dan manyanyi.
If our hmmm….is tragedy why are you my remedy.
If our love's insanity…why are you my…
"Sandara Park!" tiga suara terdengar dari balik punggungnya.
Dara berbalik dan melihat ketiganya melipat lengan di dada. Dia melepaskan headphone dari telinganya.
"Kau bilang kau ingin istirahat." Ini dari leader-nya.
"Aku beristirahat."
"Kupikir kau ingin berlatih di gym jadi aku datang kemari tapi kau tidak ada." Kali ini maknae.
"Aku meneleponmu sepanjang malam!" ini sahabatya. "Dimana kamu?!?!?!"
Dara mencoba menagan tawanya dan akhirnya yang keluar adalah kikikan, membuat rahang ketiga orang dihadapannya terbuka lebar… perlahan, mereka tersenyum padanya. "Sesuatu yang besar seperti ini terjadi dan yang bisa kau lakukan hanyalah TERKIKIK?!?" suara yang tertua diantara mereka.
Maknae tiba-tiba ikut bernyanyi dan mereka semua malah menari bersama Dara menyanyikan Clarity, versi 2NE1.
**
Jiyong menelepon Dara dan dalam dua kali dering,  gadis itu menjawab.
"Hei…"
"Halo! Sedang bersiap-siap?"
"Neh, hampir selesai."
"Apa yang kau pakai?"
"Sekarang? Tidak ada."
"Bolehkan aku datang?"
"Sandara Park!" suara Jiyong terdengar frustasi – sangat-bersemangat-namun-depresi. Dara tertawa/
"Bercanda!" kata Dara membuat Jiyong tersenyum. Tidak ada yang bisa menggodanya seperti yang gadis itu bisa lakukan. "Kau akan pergi ke pesta padahal konsermu hanya tinggal besok. Usahakan untuk tidak  minum terlalu banyak, ya?"
"Neh… aku hanya akan mengambil champagne. Jangan cemas, sama sepertimu, aku bisa menangani alkoholku dengan baik."
"Tapi aku tidak tiba-tiba menari-nari dengan benda mati." Jiyong tertawa.
"Kuharap kau bisa datang bersamaku. Kau biasanya datang ke pesta-pestaku, neh? Pesta ini juga untukku."
"Ji, mari kita coba untuk tidak menyalahgunakan kesempatan yang kita dapat, arachi?"
"Baiklah." Katanya lemah. "Ayo pakai sesuatu yang sama saat kau berangkat ke Singapura dan saat aku menjalankan konferensi pers. Harinya sama, kan?"
"Arasso. Apa yang kau pikirkan?"
"Bagaimana kalau tidak kita rencanakan?" usul Jiyong. "Pakai saja apa yang ingin kau pakai lalu aku akan memakai apa yang ingin kupakai. Kita lihat nanti apakah cocok."
Dara tersenyum. Ini adalah permainan lama mereka. Terkadang, itu sengaja direncanakan, dengan apa yang Geeun coba pakaikan pada Dara, dan kemudian Dara akan melihat Jiyong memakai pakaian yang sama atau sebaliknya. Mungkin Geeun mengetahui sesuatu. Well, selama dia merasa nyaman dan jiyong tidak bisa melihat kulitnya terbuka karena pria itu membencinya, itu tidak masalah.
"Baiklah. Dan aku punya kejutan untukmu."
"Chincha?" Dara bisa merasakan antisipasi dalam suaranya.
"Berhenti bersikap seperti kaulah yang seorang gadis dalam hubungan kita!"
"Kau tahu aku sangat suka kejutan!"
Dara ingat saat dia membelikan pria itu sebuah hadiah untuk ulang tahunnya dan dia tidak diberitahu bahwa itu akan direkam jadi dia berpikir tidak aka nada masalah. Reaksi Jiyong benar-benar melegakan, bahkan teman-temannya sampai terkikik kepadanya. Lee Soohyuk bahkan mengacungkan jempol padanya.
"Aku akan segera menemuimu, arasso? Semoga penerbanganmu menyenangkan."
"Neh… kau juga." Lalu Dara mendengar Jiyong melalui ponselnya. "Jangan terlalu merindukanku."
"Aku tidak akan merindukanmu."
"Bohong!"
"Ha! Siapa yang membutuhkanmu jika aku punya Dadoongie?"
Lalu diam…
"Kau tidak benar-benar serius, kan?"
"Aku mencintaimu, Dadoongie…" Jiyong mendengar Dara berkata demikian, dia bisa membayangkan gadis itu bermain dengan kucingnya. "tapi tidak sebanyak pada pria yang menelepon ini, iya kan?" Jiyong tersenyum. "Oh. Ji! Aku harus segera menutup teleponmu. Jjangmae menelepon."
Dara langsung memutus sambungan lalu menatap ponselnya seolah benda itu membakarnya, lalu pandangannya beralih pada Dadoongie, dia kemudian mengambil bantal dan berteriak.
*
"Dara, apa kau sudah siap?" terdengar suara Bom. "Mobilnya sudah dibawah! Chaerin dan Minzy sudah turun."
Dara berlari keluar dari kamarnya lalu memakai sneaker-nya. Saat dia berdiri, dia berhadap-hadapan dengan Bom yang menaikkan kedua alisnya. "Benarkah?"
Dara tersenyum pada Bom. "Kau terlihat seperti anak berumur 12 tahun, orang-orang harus berhenti membencimu. Dan pria itu, dia mungkin akan dituduh karena pelecehan seksual terhadap anak dibawah umur!" Dara memukul lengan Bom lalu mereka naik kedalam mobil.
Begitu mereka sampai di bandara, Chaerin dan Minzy tersenyum melihat apa yang Dara kenakan. "Benarkah, unnie?" Chaerin terkesima melihat Dara dari ujung kepala sampai ujung kaki.
"Aku yang memilih ini!"
"Tentu saja!" kata Chaerin. "Pakaian itu tidak meneriakkan namanya."
Minzy hanya tersenyum. Dia berpikir unnie-nya sangat berani dan dia hanya bisa mendukung unnie-nya dari belakang. Jelas ini lebih baik dari pada Dara yang dingin dan muram yang sudah beberapa kali dilihatnya.
"Oh, ngomong-ngomong, kudengar Teddy oppa menolak untuk tampil bersama kami di Singapura." Bisik Chaerin kepada Dara. "Katanya dia melakukan itu karena sajangnim menolak kalian menampilkan Hello."
"Mungkin sajangnim hanya ingin menyimpan itu untuk Konser Final."
"Kau selalu memberi kesempatan pada setiap orang, neh?"
"Kalau tidak ada kesempatan yang diberikan, aku tidak akan berada disini." Dara berkata kepada leader-dongsaeng-nya membuat Chaerin tersenyum.
"Inilah alasannya aku mencintaimu, kau tahu." Ungkap Chaerin jujur. "Tapi kadang-kadang, kau ini terlalu baik. Aku sampai takut membayangkan suatu saat kau akan marah tiba-tiba dan mengeluarkan semuanya."
Gadis-gadis itu dipanggil dan mulai memasuki pesawat.
"Kau bilang padaku kau punya kejutan?" tanya Bom. "Apa itu?"
"Bommie, kenapa kau terlihat sangat skeptis?"
"Karena aku tidak ingin kau melakukan apapun hanya karena dia memaksamu atau karena kau merasa perlu melakukannya karena dia itu tidak tertahankan dan sangat seksi dan dia sendiri sangat paham akan hal itu!" Dara menatap Bom dan tertawa. "Aku hanya berkata Dara."
"Jangan membahas ke bagian itu. Aku yakinkan kepadamu bahwa orang yang tidak tertahankan dan sangat seksi itu punya pengendalian diri lebih daripada yang kuharapkan dia punya."
Dara tertawa lagi melihat wajah Bom setelah sahabatnya itu berhasil mencerna maksud perkataannya.
*
Jiyong bangun pagi. Dia bersiap dan mengambil apa yang akan dia kenakan kemudian menatap ke jendela. Dara akan tiba hari ini dan dia tidak sabar menunggu untuk bisa bertemu dengan gadis itu dan melihat apa yang dipakainya. Terdengar suara ketukan pintu dan saat dia membukanya, menejernya muncul.
"Bagus! Kau sudah siap!" seru menejernya. "Ayo ikut denganku."
Jiyong mengikuti menejernya masuk kedalam lift yang membawa mereka ke kamar lain di hotel itu. Didalam sana sudah penuh dengan makanan.
"Apa ini?"
"Permintaan khusus untukmu."
"Hyung, aku sangat berterima kasih. Kau sangat manis."
"Meskipun aku ingin menyetujuinya, ini bukan ideku. Aku hanya menjalankan perintah dari Jjangmae yang juga menjalankan perintah dari 'dia'." Manajer Jiyong pura-pura batuk, tidak ingin menyebut nama Dara karena mungkin artisnya ini akan mendapat masalah, khususnya dengan caranya tersenyum sekarang ini. Sarapannya telah siap. Seperti saat Dara memesan untuk para membernya saat mereka berada di hotel, dia melakukan hal serupa untuk Jiyong, walau kali ini rasanya lebih spesial. Ada sebuah amplop diatas meja, dan saat Jiyong membukanya, ada selembar foto didalam. Dia mengerti dan tersenyum. Itu adalah foto pakaian yang Dara kenakan hari ini. Jiyong memperhatikan beanie yang dipakai gadisnya.
Seperti jam tangan yang sengaja dia lambaikan… Dara mengenakan logo albumnya, agar semua orang bisa melihatnya.
Dan… mereka berdua sama-sama memilih warna hitam.
"Hyung, makan bersamaku." Menejernya tersenyum dan mengangguk. "Foto aku dengan kucing itu nanti, arasso?"
"Kucing itu bukan bagian dari kejutanmu. Kupikir itu sudah ada disini sebelum kau menginap disini." Jiyong tiba-tiba tertawa pada menejernya. Dan pria yang lebih tua itu bisa merasakan eforia yang berasal dari G-Dragon/Kwon Jiyong. "Memang seharusnya begini." Pikirnya.
Tiba-tiba, dia berpikir bahwa ini adalah sarapan terenak yang pernah Jiyong rasakan.
**
Tweet 6.29.13
@krungy21 : Falling in love~ falling in love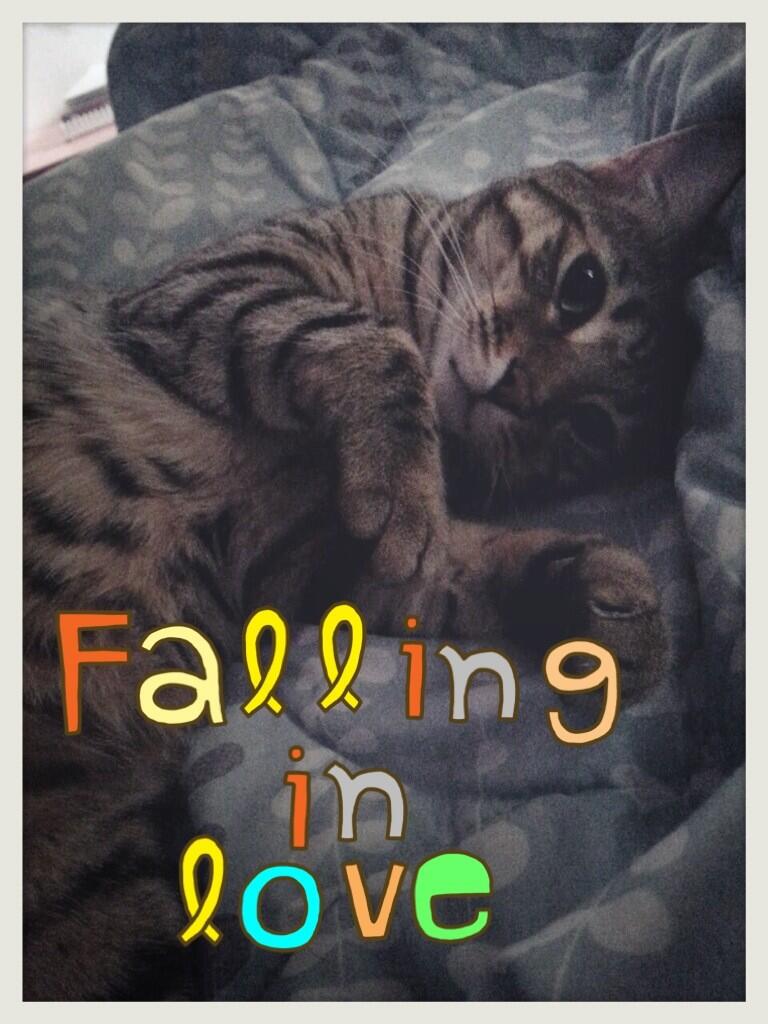 Instagram 6.29.13
Luckydaytoday
Hmmmm...and that white snapback, i bet...had the same logo as her beanie.. coincidence? Yeah...totally...
<< Back Next >>